SwitchList is a Mac program for automatically making lists of freight cars to switch on a model railroad. If you have a small model railroad or a shelf layout and want a switch list program that's easy to set up and easy to use, try it out!
SwitchList 1.4 requires Mac OS X 10.13 (High Sierra) or better.
SwitchList 1.3 requires Mac OS X 10.5 (Leopard) or greater.
Click here to download SwitchList 1.4
, or get it at
Apple's Mac App Store
.

SwitchList's Best Features: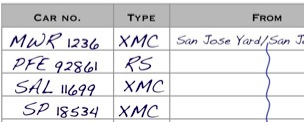 Graphical user interface for setting up and printing out switch lists. No more editing cryptic files and searching through a sea of checkboxes.
Easy to adjust the available cargos for more realistic traffic flows. Adjusting operating sessions no longer means writing out a hundred new car cards!
Not all cars have to move each session, so movements appear more random. No more repetitive, identical operating sessions.
Allows realistic routing of different railroad's empty freight cars to different staging yards. Empties leave in a realistic way.
Assigns freight cars based on owner of car. A C&O boxcar won't be used to haul cement locally for your California railroad.
Define your own switchlist styles. If the built-in realistic switchlists don't match your railroad, then just define your own. You can even generate custom switchlists that look like car cards and are swipeable on your iPhone or iPad!
View switchlists on your iPad or iPhone. Save paper and work switchlists displayed on your phone, or check your layout state from your iPad.
SwitchList is an open-source project, and created by volunteers.
Check out the SwitchList development site
to learn how to extend SwitchList, modify it for your own purposes, or help make SwitchList better!
See sample switchlists
.
See
screenshots of SwitchList in action
.
See
sample layout reports
generated by SwitchList.
See
our release history
.
Read the
current documentation
. (The same documentation is also available from the Help menu within the SwitchList program.)
Get your questions answered on the
SwitchList mailing list
. Feedback is welcome; you can also drop me a note at
rbowdidge@mac.com
.